The strongest love rite – Black Magic (7 sessions) – 449$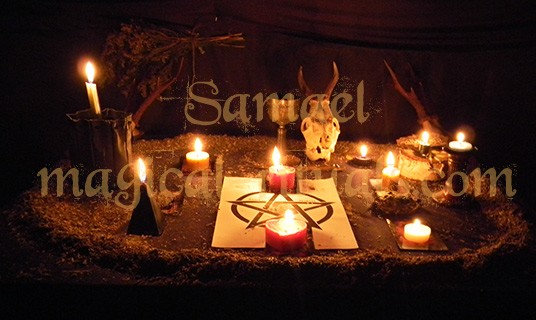 After completion of the rituals, I send photos. Thanks to this, you will recognize that ritual was performed for you.
Do you have questions? Contact me: samael@magical-rituals.com

On this page you can buy a love spell during which I refer to my patron – the angel of darkness and the master of seduction – Samael. His help with love problems can be spectacular. I know from my experience that this is the most effective love ritual. The rite consists of seven sessions lasting several hours.
This is the strongest type of love magic. Recommended for people who want to regain their loved one. This ritual is most effective. It works even in the most difficult cases.
It is absolutely forbidden to order love spells in order to play with someone's feeling!
About the love spells and magic rituals
From their very young age, people are taught to believe in what they see. However, if something is invisible, it does not mean that it is not there. Unfortunately, this is exactly the opinion of a tremendous majority of our society. Its representatives do not want or are not capable of analyzing certain phenomena. They are much more willing to call something an accident than to face the fact that it might have happened due to the interference of force majeure. The fact is that the future may be changed, even though it may seem impossible for some.
My rituals are highly effective. Why?
All I can say is – they are exceptionally exhausting for me. Saying the magical formula alone is not enough. The amount of energy generated by me during a ritual is enormous. After one session, I tend to sleep up to 20 hours. My health is put at risk, but it is the only way of making sure that the ritual will work. To alter reality, one must be able to enter the trance state. I have obtained the said skill years ago.
What is energy?
You have surely met a person who has drawn your attention. He or she might have not been exceptionally pretty, slim, or high. Such a person might have been nothing special at all, but you have felt attracted to him or her. It must be said that there are people out there capable of drawing others attention thanks to their energy. They can influence other people. The aforementioned energy is the basis of true magic. By means of its utilization, one can work miracles. Since time immemorial, all the possible magic formulae have been based on this very assumption. There is a common misconception that only by believing in the spell can we make it work. In fact, while generating energy you do not need to believe as you just know that a particular thing will happen. Of course, not all individuals are able to do so. Let me add that nonprofessionals having no contact with magic should not even try altering reality.