Master Samael – Real Love Spellcaster
I have been performing fortunetelling and ritual-oriented (especially love spells ) undertakings for several years. I consider myself to be a decent and mysterious person. Despite that fact, I am fully aware of the power I am in possession of.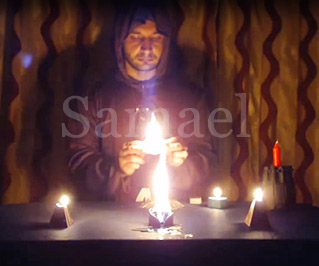 Therefore, if you have found this website and would like to take advantage of my services, please – treat me seriously. The rituals I perform have the astonishing success rate and they are connected with a number of positive effects. That is why you should think twice before placing an order for the love ritual, for example. Casting the love charm will make another person crazy in love with you. He or she will see you and only you as his or her partner. So, think twice and if you assume that the said person may become boring for you after some time, do not order the charm and do not hurt other individuals. After contacting me, you will understand that there are still real Masters of Magic nowadays. You will surely tell your friends about me as soon as possible.
I was raised in a small town located in the southwestern part of Europe.
It is undoubtedly a magical region in which the time has stopped. Secret and mystical knowledge is omnipresent here and one may even feel its presence. I have been interested in magic from my early childhood. When other boys were playing with toys, I was learning how to tell others' future by means of using Tarot cards. I was lucky to be accepted by the Master of Magic living nearby when I was only 12. For 20 years, he helped me to obtain the required knowledge. He was like a father and a spiritual leader for me. He taught me a lot and showed me his ways.
Nowadays, I see and feel much more than normal people do. I try to take advantage of my mysterious powers by helping others by love spells and another rituals. The payments I receive in return are in the majority of cases spent to help people in need living in various areas of the Earth. My major fields of interest are love and financial magic, as well as spiritual cleansing. I am also one of the few being able to remove curses from interested individuals. While performing my services, I use various kinds of magic – depending on the needs of the client.
If you need my love spell or another help, you must know that there are certain walks of life in the case of which magic can be useful or even indispensable. There is no use in wasting your energy and time on meaningless existence if a single ritual can change your life into the one full of love, happiness, and abundance.
Do not forget to spend some time on familiarizing me with your personal situation, for I need to prepare and adjust the ritual to you requirements. Inform me about the most vital details concerning your life and tell me what you would like to achieve. Thanks to that, I will be able to connect with the Energy of the Universe and prepare materials and ingredients required for a given magical session.
Remember! Ritual should be approached as a means that can help you regain a loved one, not as a certainty. I am only human, and I cannot guarantee that the ritual works in every case. These are spiritual activities, so there is no guarantee of success here. I do not persuade or encourage anyone to order a ritual (I even advise against people whose cost of the ritual could overwhelm their home budget), it must be a conscious decision of a given person. My success rate is about 60-70% cases.
See my Instagram
21.06.2015 18:24
On the night of the summer solstice from 20 to 21 June, I was performing ritual in the intention of all people abandoned by a boyfriend or girlfriend – love spell for everyone. I received feedback that this ritual helped 86 people participating in the online session.
The movie depicting the ritual you can see below