Egyptian love spell (7 sessions) – 299$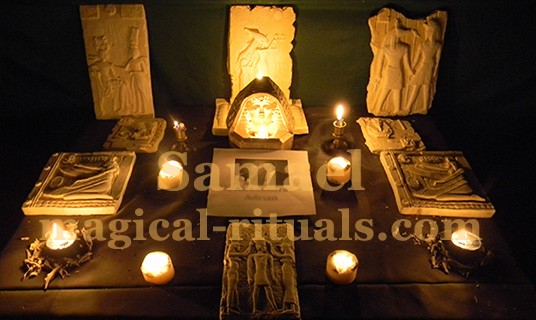 After completion of the rituals, I send photos. Thanks to this, you will recognize that ritual was performed for you.
Do you have questions? Contact me: samael@magical-rituals.com
On this page you can buy an Egyptian love spell based on ancient magic. It can be successfully used by believers, because during the rite I invoke only positive forces. The rite consists of seven sessions lasting several hours. This ritual is intended for people who have broken up with a partner and for people whose love is unrequited and have not been in a closer relationship together. It is absolutely forbidden to order love rituals in order to play with someone's feelings! After performing the ritual as proof, you will receive a photo taken at the end of the rite.
The ritual evokes the energy of the strongest Egyptian gods, such as Isis, Bastet, Ra, Hathor. When casting spells, I turn to the above-mentioned deities and use props so that the spell resembles the spells used in ancient Egypt as much as possible. Please remember that in ancient Egypt, sorcerers, priests, magicians and all other persons who knew love magic were highly appreciated and held a high position in the social hierarchy. This was because their spells were highly effective and helped many people. Below I will present a brief description of the deities I refer to when casting spells. The goddess Isis was the daughter of Nut I Geba, the sister of Nephthda, Seth and Osiris, the mother of Horus. Together with her brother and son, she belonged to the chief triad of Egyptian deities. Initially, her role was limited to taking care of married couples. However, along with the cult of Osiris, she was recognized as the protector of magic. In this way, she became the patron saint of Spell Casters, and of all those who had to deal with magic. Isis stole the secret of magic from God Ra and successfully used it for her purposes. She is presented as a beautiful, black-haired woman with a hieroglyph on her head, which meant the throne. In her hand she holds an amulet called "the knot of Isis" Goddess Bastet- Next to Isis, she was the second goddess who enjoyed great popularity. Bastet became famous thanks to its friendly nature. Cats were her inseparable companions. Her friendly attitude towards these animals made the Egyptians take special care of them. She was usually portrayed as a beautiful, slender woman with the head of a cat or a lion. Bastet ensured happy relationships, love and fertility. Women wishing to have a happy relationship wore Bastet amulets with kittens. To this day, Spell Casters who deal with Egyptian magic use her help. During Egyptian love spells, I use spells to address this Goddess. Its strength helps to restoration or attract love to our lives.
Another Egyptian goddess I refer to when casting spells is Hathor – the goddess of grace. Its main attributes were a mirror and a musical instrument. In human form, she was depicted in a long red dress – tight, of course, which revealed more than it covered. Like most Egyptian goddesses, she was also a long-haired brunette, often mistaken for Isis by her followers. According to a popular myth, Hathor was born from the tears of the god Ra. A tear falling to the ground turned into a beautiful woman who delighted the Sun God with her beauty so much that he called her the Gold of the Gods. Hathor became Re's favorite, the only one able to tame his anger and make him feel good again. The last deity I turn to when casting spells is Ra – the creator of order in the universe. Ruler of gods, people and the dead. The symbol of Re was the obelisk. As the god of the world and the sky, Re was the master of order in the universe.